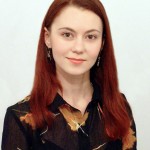 Olesya Karpenko was born in Dnipropetrovsk, Ukraine. She graduated from Dnipropetrovsk National University with a diploma in English language and literature. Olesya worked at Dnipropetrovsk National Mining University as a teacher of English, at the Jewish Community Center, the Regional Institute for Social and Community Workers, Hillel Jewish Students' Club and was actively involved in Limmud FSU. Olesya participated in numerous Jewish conferences, seminars and trainings, including Limmud UK (2008) and ROI Summit for Young Jewish Innovators (Israel, 2011).
Currently Olesya is a fellow at Paideia – the European Institute for Jewish Studies. She studies Jewish textual sources and does academic research on Vladimir Solovyov's philosophy as a background of modern Jewish-Christian intellectual relations development.
Olesya is interested in cross-cultural relations and interaction, exploring and comparing traditional textual sources, Jewish-Christian intellectual relations, Jewish art and literature.
Her future goals include furthering her Jewish education and continuing working on her research on Christian-Jewish intellectual relations. She believes that a strong tradition of mutual support, rooted in Jewish values, is a prerequisite for creating an equal and inclusive society. She values the importance of young Jewish leaders from different countries meeting to discuss Jewish values and figuring out ways to put them into practice.
Session 1: Vladimir Solovyov as a defender and inspirer of Jews
The session will be focused on Jewish-related philosophical heritage and the Jewish advocacy activity of Vladimir Solovyov, an outstanding Russian theologian and philosopher of the late nineteenth century (1853-1900) who not being Jewish himself studied Talmud profoundly and became an expert in Jewish mysticism. A contextual study of Vladimir Solovyov's literary heritage on Jewish civilizations shows that his interest in the Jews goes far beyond the "Jewish question" and anti-Semitism.
The impact of Jewish kabbala on Solovyov, his consistently positive attitude towards Judaism, his defense of the moral character of Judaism and the Jews and his activism on behalf of civil rights for Jews in Russia are all well-known. However, different questions will be addressed; in particular, what imprint did Solovyov leave in the Jewish press, and on modern Jewish thought and literature? The attempt to answer this question may shed more light on modern Judaism than on Soloyov's ideas, as is always the case with a study of reception. The Jewish reception of Solovyov is of special interest, however, because of the centrality of Judaism and the Jewish question occupies in his views.  We may inquire: was Solovyov as important to Jews as Judaism was important to him? How were his ideas received by modern Jewish intellectuals? Could the ideas of a Christian-Russian theologian be absorbed by modern Judaism, and in what way?