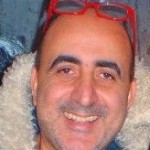 David Dahan is regarded, by those around him, as a great cook! A part of David's home, known to most of you as the kitchen, is called King David's Kitchen. This is whereeverything from the shakshuka to the tchina magic happens. David Dahan is a 40 something year old Israeli from Yafo who has lived in Sweden for the past 20 years. With roots from Morocco, food and cooking has always been a large passion and part of  his life. After leaving Israel to live shortterm in places such as HongKong, Korea and Stockholm, food  was a great way to remind David of home and where he came from. Throughout the years his skills and  knowledge has developed. On a regular day you might catch David cooking up a storm, setting the table with the likes of tchina, hummus and chatsilim. Without ever having followed a recipe, there is one ingredient that will remain and that is love. David cooks for his family and friends at every given opportunity but he also enjoys cooking for a larger number of people. For many years David has catered for various events such as Shabbat Irgun, birthdays etcetera. The most recent event where David cooked was at Glämsta the summer of 2013. David teaching others how to cook shakshuka left everyone wanting more.
Session 1: Israel's finest Shakshuka, tchina, garlic bread and Israeli Salad (begränsat antal platser)
In this session you will have the opportunity to become a shakshuka expert. You will learn the tricks of making a magical vegetarian dish with suitable sidedishes that can be enjoyed by everyone at anytime.  Originally shakshuka steams from the middle eastern cuisines of Tunisia, Lybia, Algeria and Morocco. Also in Israel, this pancooked vegetable stew with poached eggs has become one of the national dishes. In most other countries this dish belongs on the breakfasttable, but in Israel the dish has become so popular that some would even consider it an option for dinner. There are many different varieties of  Shakshuka such as
spinach and cauliflower, but the most common version is a tomatobase one.