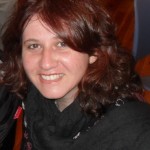 Yael Unterman grew up in the UK and now lives in Jerusalem. She is an international lecturer, author and Bibliodramatist, and coordinator of the David Cardozo Academy Think Tank. For the past decade or more, she has lectured andfacilitated Bibliodrama with diverse populations in Israel, Asia, Europe, UK, North America and Australia. She has published articles, book reviews, stories, and poems, and performed several of her own pieces including the solo show, "After Eden."
Her first book, Nehama Leibowitz: Teacher and Bible Scholar, was a finalist in the 2009 National Jewish Book Awards, alongside works by Dr Avivah Zornberg and Rabbi Jonathan Sacks. Rolling off the presses as we speak is her latest work, The Hidden of Things: Twelve Stories of Love & Longing. It tells of young Jews in Jerusalem, New York and London searching for love, identity and spiritual
connection: but is this tragedy…? or comedy…? Only one way to find out!
In her spare time Yael likes attending Limmuds in new countries. She has presented at Limmud UK numerous times, as well as at Limmuds Oz, Germany, Galil and Jerusalem. She is delighted to be at Limmud Stockholm.
Session 1: Singles at Succot: Story and Struggle
Yael reads the story "Species" from her latest book, The Hidden of Things: Twelve Stories of Love and Longing. Hannah, a 30-year-old religious single who struggles with questions of identity, Judaism, and feminism, goes to stay with friends on a kibbutz at Succot time. On the morning of the festival, she attends synagogue, bringing the traditional four species with her. To her horror, something bizarre and violent occurs there, turning her world upside down. Time permitting, we will discuss the textual and traditional basis for the story and how it came to be written, and also read a second piece about another religious 30-year-old's Succot struggle, and compare the two. The presenter will also discuss some of the unique challenges facing an Orthodox writer.
Session 2: The Halacha & Aggada of Internet/facebook
A semi-addict of Internet and Facebook explores these two modern phenomena  that so powerfully shape our lives, and discusses why we should use them carefully. She introduces Jewish dimensions and perspectives: practical, sociological, ethical and philosophical. Along the way she quotes from the Talmud, Soloveitchik, Levinas, Asimov, A. J. Jacobs, Nicholas Carr, Stephen Covey, and a host of other sources she found on the internet (well, not really – she knew most of them before). Twitter will not be dealt with, but feel free to tweet great quotes from the session in real time.
Session 3: Bibliodrama: Joseph, The Early Years
This Bibliodrama methodology was invented by Dr Peter Pitzele of the USA, and it has been surprising people around the world for the past thirty years. It's not acting/theatre, it's speaking roles from our seats in a kind of "spontaneous midrash" technique using multiple voices, as in "there are 70 facets to the Torah". Almost everyone can do it, no matter from what background; and shy people are definitely welcome. In preparation for next week's Torah portion, we'll explore Joseph's early years, with the tension between the brothers and the puzzles that need solving. Along the way, we'll surprise ourselves with new insights and find our own life stories
resonating within the biblical text.